Breckenridge Old Time Photo Studio - Located at 326 South Main St - 970.453.4444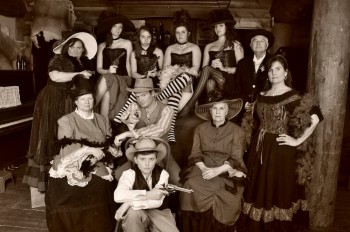 Breckenridge Old Time Photo offers its guests a unique and perfect opportunity to remember their stay in Breckenridge, Colorado. Conveniently located on Breckenridge's historic Main Street, their authentic Old Tyme Breckenridge Photo Studio allows guests to travel back in time with Old West photos that will last a lifetime.
The studio at Breckenridge Old Time Photo features a fantastic assortment of authentic Old West costumes to suit everyone's needs, as well as three historic scenes to be photographed in. Their most popular scene, the Old West Bar, is well-suited for large parties of up to 16 guests and offers the widest variety of poses. Two smaller scenes include a barn scene and an old fashioned parlor. These settings are great for intimate family portraits, smaller groups and children.
When you enter the store and are greeted by their friendly staff, you will be invited to view the wide variety of photo samples on display. Based on your choice of persona and scene (choose between Saloon/Barn/Parlor), they will then dress you in authentic old time western wear.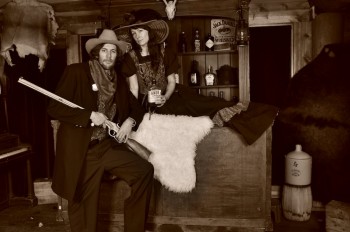 You are then directed by your photographer into varying poses within the scene you have chosen, as your photographer snaps away. Guests can view your photos immediately after the photography session and prints are normally ready for collection within two hours.
Each Old Time Breckenridge Photo session lasts approximately 30-45 minutes. All guests will have the ability to reorder prints whenever they'd like, utilizing the studio's online service or by contacting the store directly.
The studio also provides framing options and customizable products to help remember your visit.
Contact Information:
For reservations, or more information on Old Time Photo services in Breckenridge, Colorado, contact Breckenridge Old Time Photo at 970.453.4444.
Location:
326 South Main St, Breckenridge, CO 80424
(Next to the North Face store)
Walk-ins are always welcome.
Pricing:
Sitting Fee - $49.95 (includes all costuming, photography session and one 11x14 print)
Pricing for additional prints ranges from $15.95 to $59.95 (wallet to 16x20 sizes available)
Please contact the photo studio for more information.