Dog Sledding Tours in Breckenridge Colorado
Breckenridge Dog Sled Tours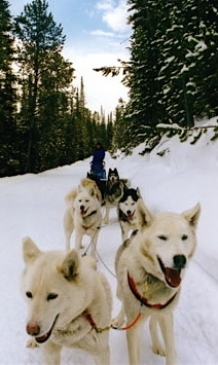 Our Breckenridge Dog Sledding adventure places you at the helm of a majestic team of Siberian Huskies, piloting the dogs through the area's most pristine alpine wilderness. Learn to speak the age-old language of mushers, calling "G!, Haw!" and "Whoa!" as you pilot your Dog Sled towards magnificent vistas along Georgia Pass.

Your Breckenridge Dog Sled Expedition begins with your guide explaining the operation of the Dog Sled and how to manage your team of huskies through the forest. You'll then embark on a 6-mile journey through the middle fork of the Swan River Valley, now the site of several mining ghost towns.
Breckenridge Dog Sledding Tours run just over an hour, pausing along the way for guests to trade roles between running the dogs, riding on the Dog Sled and riding on a passenger sleigh with the guide. Riding on the passenger sleigh provides an excellent opportunity to take action shots of your friends and family as they mush the Dog Sled Team through the forest.

We work with the premier Breckenridge Dog Sled Tour Outfitters at their prices, making our booking services free of charge to you.
Book Now
To book your Breckenridge Dog Sledding Tour, contact Summit Concierge toll free at 1.866.998.0696 or locally at 970.455.4040.
Additional Information:
We do not reccommend this tour for children under 3 years of age.
Transportation is available free of charge on all Breckenridge Dog Sled Tours.
Breckenridge Dog Sledding accommodates up to 6 people per Sled.
If your party prefers a private Breckenridge Dog Sled Ride, the entire sled may be reserved.
More Great Activities to Explore in Breckenridge:
Plan Your Trip:
Activities in Breckenridge, Colorado
The Rocky Mountains provide a tremendous array of Winter Activities & Things to Do in Breckenridge, Colorado. Breckenridge Activities include Snowmobiling, Winter Zip Line Tours, Dog Sledding, Sleigh Rides, ATV Tours, Fly Fishing, Spa Services, Gold Mine Tours, Old Time Photo Studios, Tubing & Sledding and Ice Skating.

Each of our Vacation Specialists have actual experience regarding the Breckenridge Tours and Activities we sell. Contact us toll free at 1.866.998.0696 or locally at 970.455.4040 to plan and book your Breckenridge Vacation today!

(Please click on the Activities Tab to close this window)