What to Wear on a Breckenridge Dog Sled Tour
What to Wear Dog Sledding in Breckenridge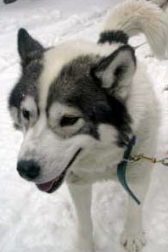 Dress in warm, breathable layers for your Breckenridge Dog Sled Tour. A waterproof and breathable jacket, ski pants, boots, warm gloves, a hat, goggles, and sunglasses are all important items to bring along with you. Snowsuits, boots, and helmets are available at dog sled base camp for no additional charge.
Wear sunscreen with an SPF value of 30 or greater and reapply it throughout the day. At Breckenridge's altitude of 9,600 feet, the sun's rays are 40% stronger than at sea level, leading to increased risk of sunburn. Chap stick or a lip balm with a high SPF value is also highly recommended.
Don't forget your camera and/or camcorder as photo and video opportunities abound on our Breckenridge Dog Sledding Adventures.
Book Now
To book your Breckenridge Dog Sledding Tour, contact Summit Concierge toll free at 1.866.998.0696 or locally at 970.455.4040.
Additional Information:
We do not reccommend our Breckenridge Dog Sledding Tours for children under the age of 3.
Complimentary transportation is available for all Dog Sled Tours.
Dog Sledding accommodates up to 6 people per Dog Sled.
An entire Sled may be reserved for parties smaller than 6 who would prefer a private tour.
More Great Activities to Explore in Breckenridge:
Plan Your Trip:

Activities in Breckenridge, Colorado
The Rocky Mountains provide a tremendous array of Winter Activities & Things to Do in Breckenridge, Colorado. Breckenridge Activities include Snowmobiling, Winter Zip Line Tours, Dog Sledding, Sleigh Rides, ATV Tours, Fly Fishing, Spa Services, Gold Mine Tours, Old Time Photo Studios, Tubing & Sledding and Ice Skating.

Each of our Vacation Specialists have actual experience regarding the Breckenridge Tours and Activities we sell. Contact us toll free at 1.866.998.0696 or locally at 970.455.4040 to plan and book your Breckenridge Vacation today!

(Please click on the Activities Tab to close this window)