Breckenridge Snowmobiling - Prospector Breckenridge Snowmobile Tours
Breckenridge Snowmobiling at the Prospector Lodge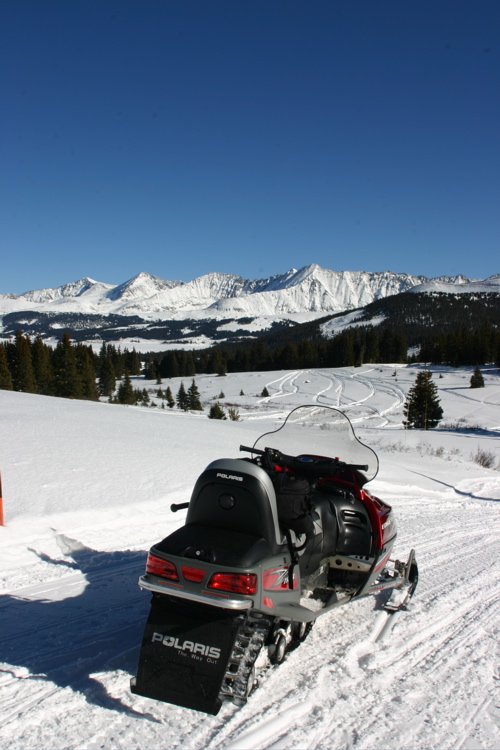 Our Breckenridge Snowmobiling Prospector Tours were designed for families, groups and individuals wanting to explore a variety of terrain in the presence of Colorado's most spectacular scenery. As the most popular tour option for Snowmobiling in Breckenridge, The Prospector is ideal for first time riders, families with young children and snowmobilers who would prefer to "double up" and ride two per sled.

Your tour begins with a quick tutorial covering the operation of your snowmobile, followed by a practice session to become better acquainted with its handling. Snowmobilers then embark on a ride through open mountain meadows and high alpine trails that open to stunning vistas of Colorado's highest peaks - Mt. Elbert and Mt. Massive.
After beginning decent from the Continental Divide snowmobilers can stop at a restored mining cabin to warm up with hot cocoa and coffee. Here, kids can try out Breckenridge Snowmobiling for themselves, with child-sized snowmobiles provided free of charge. A professional photographer is available on site.
The Prospector Tour is offered as a Two-Hour Snowmobile Tour.
Two-Hour Tours are offered at 9:00 am, 12:00 pm, and 3:00 pm daily.
Prospector Lodge Snowmobile Tour Pricing: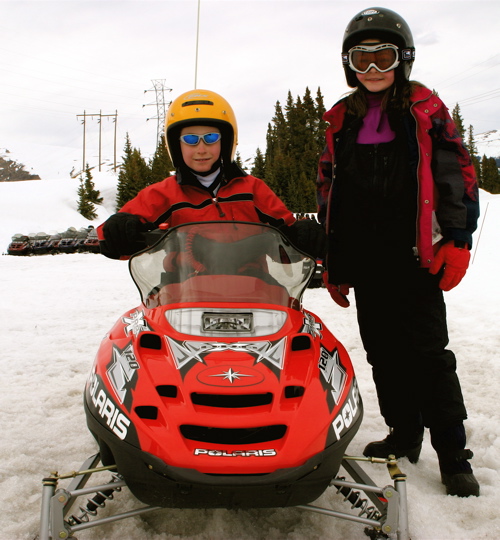 2-Hour Snowmobiling Tour:
Drivers:
$180.00
Passengers:
$80.00

Book Now
To book your Breckenridge Snowmobiling Adventure contact Summit Concierge at 970.455.4040.
Additional Information:

Breckenridge Snowmobiling Tours have a minimum age of 4 for all child passengers.
A credit card imprint, serving as a damage deposit, is required on all Breckenridge Snowmobile Tours.
Snowmobile Drivers must be 15 years of age with a valid learner's permit.
Drivers must be 18 years of age or older in order to carry a passenger on their snowmobile.
A signed liability waiver for personal injury is required prior to tour departure.
Please note that all Breckenridge Snowmobiling Tours have a 48 hour cancellation policy.
Other Breckenridge Snowmobiling Tour Options:
More Great Activities to Explore in Breckenridge:
Plan Your Trip:
Activities in Breckenridge, Colorado
The Rocky Mountains provide a tremendous array of Winter Activities & Things to Do in Breckenridge, Colorado. Breckenridge Activities include Snowmobiling, Winter Zip Line Tours, Dog Sledding, Sleigh Rides, ATV Tours, Fly Fishing, Spa Services, Gold Mine Tours, Old Time Photo Studios, Tubing & Sledding and Ice Skating.

Each of our Vacation Specialists have actual experience regarding the Breckenridge Tours and Activities we sell. Contact us toll free at 1.866.998.0696 or locally at 970.455.4040 to plan and book your Breckenridge Vacation today!

(Please click on the Activities Tab to close this window)