Breckenridge Sleigh Rides - Dinner & Scenic Sleigh Rides in Breckenridge
Breckenridge Dinner and Scenic Sleigh Rides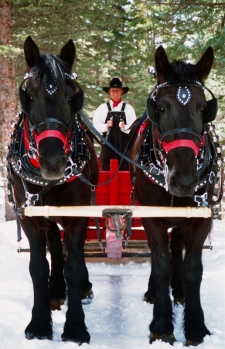 Breckenridge Sleigh Rides offer the perfect opportunity to spend an evening away from the bustle of town amidst the serenity of the Rocky Mountains. Listen to the ringing of the animals' bells and the crunch of fresh snow beneath their feet as you're delivered to the warmth of a lodge's fire and a delicious meal or a frothy hot chocolate.
All Sleigh Rides take place on beautifully handcrafted sleighs. Guests may choose from a group experience with friends and family, or book their own exclusive carriage sleigh for an intimate ride through the forest.
Breckenridge Sleigh Rides are an ideal activity for couples' families or groups and are sure to be a memorable experience for everyone. This is an activity all members of your party can participate in, regardless of age or physical ability and is one of our most requested activities in Beckenridge.
We work with the premier Breckenridge Sleigh Ride Outfitters at their prices, making our booking services free of charge to you.
Breckenridge Sleigh Rides Offered:
Dinner Sleigh Rides on the Frisco Peninsula
Exclusive Carriage Sleigh Ride
Hot Chocolate Sleigh Rides at the Gold Run Lodge
Book Now
To book your Dinner or Scenic Sleigh Ride in Breckenridge, call Summit Vacation Concierge toll free at 1.866.998.0696 or locally at 970.455.4040.
Additional Information:
What to Wear on Sleigh Rides in Breckenridge
More Great Activities to Explore in Breckenridge:
Plan Your Trip:

Activities in Breckenridge, Colorado
The Rocky Mountains provide a tremendous array of Winter Activities & Things to Do in Breckenridge, Colorado. Breckenridge Activities include Snowmobiling, Winter Zip Line Tours, Dog Sledding, Sleigh Rides, ATV Tours, Fly Fishing, Spa Services, Gold Mine Tours, Old Time Photo Studios, Tubing & Sledding and Ice Skating.

Each of our Vacation Specialists have actual experience regarding the Breckenridge Tours and Activities we sell. Contact us toll free at 1.866.998.0696 or locally at 970.455.4040 to plan and book your Breckenridge Vacation today!

(Please click on the Activities Tab to close this window)