Breckenridge Snowmobiling Tours & Snowmobile Rentals - Breckenridge, Colorado
Breckenridge Colorado Snowmobiling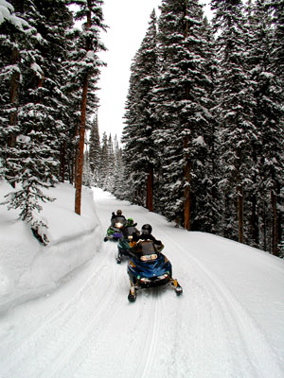 Snowmobiling in Breckenridge offers the ideal backcountry escape, with miles of pristinely groomed trails and deep powder-filled meadows to be explored. Our Breckenridge Snowmobile Tours and Rentals access breathtaking vistas, high atop the Continental Divide, on state of the art snowmobiles equipped with hand-warmers and all the latest conveniences for your comfort.
Breckenridge Snowmobiling Tours begin with an overview of your machine, as well as a brief practice session to familiarize yourself with the snowmobile's handling. You'll then begin your ascent towards the high alpine bowls of the Continental Divide, surrounded by Colorado's tallest peaks at every turn of the trail. Upon reaching tree line, you'll leave the forest below and enjoy wide open powder riding on mountain passes crisscrossing the Continental Divide. These tours maintain a high guide to guest ratio, allowing for smaller group sizes and terrain that is appropriately chosen for your party's desired level of adventure.
Whether you've never ridden a snowmobile before or you're an experienced rider seeking an adrenaline-inspired experience, Summit Concierge will match the ideal snowmobile tour or Breckenridge Snowmobile Rental outfitter with your needs. We work with the premier Breckenridge Snowmobiling companies at their prices, making our booking services free of charge to you.
Transportation is available free of charge on nearly all Breckenridge Snowmobile Tours. Please let our local experts know if your party would like transportation when making your reservations.

Breckenridge Snowmobile Tours Offered:
Performance Snowmobiling at Fremont Pass
High Adventure Snowmobiling Tours
Breckenridge Snowmobile Rentals Offered:
Breckenridge Snowmobile Rentals at Vail Pass - Unguided
Book Now
To book your Breckenridge Snowmobiling Tour or Breckenridge Snowmobile Rental contact Summit Concierge toll free at 1.866.998.0696 or locally at 970.455.4040.
Additional Information:
Breckenridge Snowmobile Tours are not recommended for children under the age of 4.
A credit card imprint, serving as a damage deposit, is required on all Breckenridge Snowmobiling Tours and Rentals.
Drivers must be 15 years of age with a valid learner's permit in order to operate a snowmobile.
Drivers must be 18 years of age or older in order to carry a passenger.
Please note that all Breckenridge Snowmobiling Tours have a 24 hour cancellation policy.
Please note that all Breckenridge Snowmobile Rentals have a 72 hour cancellation policy.
A signed liability waiver for personal injury is required prior to tour departure.
More Great Activities to Explore in Breckenridge:

Plan Your Trip:
Breckenridge Vacation Packages